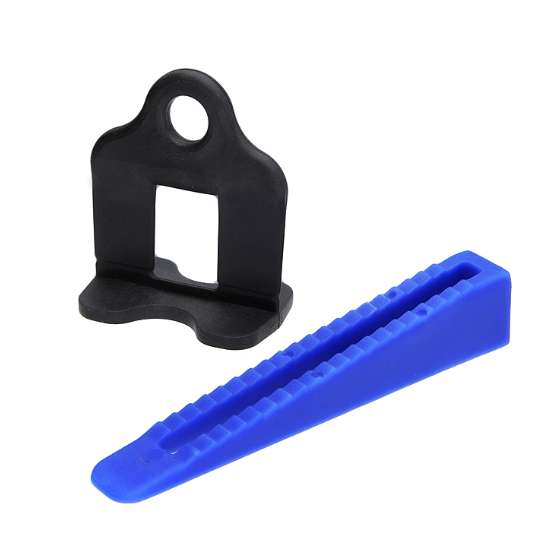 Tile Leveling System
Update date:
Grout width: 1 mm
Size: 6-15 mm
Material: Polyoxymethylene/Polypropylene
More information
Tile leveling system - PERFECT TILES
Have you ever wondered why laying tiles is such a long process? It's simple. Because of the lack of Millto PERFECT TILES system. If you had problems with this type of task before, this solution will change your life completely.
Quick and easy tile installation? Save up to 50% of your time!
Tile leveling system is the answer to all of the expectations of the clients who have no experience in laying tiles or who want to save their time. Thanks to Millto PERFECT TILES you can quickly finish the work by yourself. It's a product which can save you up to 50% of your time. Sounds good? Don't wait any longer and increase the comfort of your work now.
You have a choice! Buy a set or pick individual items
Millto PERFECT TILES set contains tile clips and wedges. Thanks to those elements you can forget about: cross separators, crooked tile surface or uneven grouting. Each of those issues is non-existent if you use this modern solution. If you value aesthetics – it's a perfect choice for you.
Clips and wedges are packed in a transparent bucket with a comfortable handle. It's very convenient to move around and, more importantly, you don't have to worry that you will lose the equipment.
What's more! Clips and wedges can be purchased separately. You can fit the purchase to you own needs.
One product – lots of benefits. How is that possible?
Millto PERFECT TILES tile leveling system is an ideal way to save money. The wedges from the set can be used many times. They do not lose their properties. This way you can keep some of the budget intended for finishing the interior. It's an opportunity that you shouldn't miss out on.
Millto PERFECT TILES can be used on any surface. You can achieve a perfect level both on the floor and walls. You buy one product – and get meny possibilities.
Learn the secret to perfectly laid tiles!
Clips and wedges are characterized by a practical construction which helps in leveling the tiles. The clips can be compared to anchors. They work as a basis for the tiles. The upper part of each clip is crucial for the wedges. They have little dents (carvings). You can use them to easily regulate the tile level – and if needed, push the clip deeper and lock it, using the mentioned indentation. Laying tiles has never been so easy before! Try it yourself.
The best quality at an attractive price
Quality and effectiveness go together with a competitive price. The Millto PERFECT TILES leveling system improves performance and precision of laying tiles. If you choose it, you can get rid of all imperfections. This modern solution will help you save your precious time and money.
Technical Specification
Grout width:

1 mm

Size:

6 mm -15 mm

Material:

Polyoxymethylene / Polypropylene

Color:

Black / Blue
Where did the idea for a tile leveling system come from?
Laying tiles is a process that requires great precision. The commonly used solutions such as cross spacers usually provide good results but their usage might be quite problematic. While specialists typically have no problem with this method, leveling the surface is quite a challenge if one has no experience with it. There was a need for a better solution, one that would make laying tiles easy not only for experts but also for ordinary people who wish to perform such tasks by themselves. That's how tile leveling system was made. It is an absolute game-changer and a huge convenience for every tiler.
What is a tile leveling system?
The Millto tile leveling system consists of two basic types of elements. They are tile clips and wedges. Specially shaped tile clips, or spacers are placed between two tiles, underneath. It is done at the stage of sticking the tiles to the surface. The next step involves inserting the wedges, to press two tiles to the floor and to level the surface.
The wedges have special carvings that hold the elements in the tile spacers and prevent them from moving. This way the tile leveling system is far more effective than the traditional methods. It is also much easier to employ. For this reason the tile leveling system is used not only by professionals, but also by amateurs who want to renovate their homes by themselves.
What does the tile leveling system do?
At first, tile leveling system had been used only for floors. Later on, however, it had been noted that it's a universal solution and in fact it can be applied everywhere. Now, tile leveling system is used also for stairs and walls. It is suitable for various types of material. The system is perfect for ceramic tiles, as well as those made of granite, grès and natural stone.
Tile spacers and wedges – the basic elements of the tile leveling system
Using specially shaped tile clips and wedges doesn't only mean leveling the tiles. Another very important aspect is the possibility of setting a particular width between them. Thanks to this feature you can be sure that when grouting, the lines are going to be equally wide. It's an important factor contributing to the aesthetics of the created surface, which for many is the most crucial aspect.
Tile wedges guarantee that the tiles will not move and change their position which is a common issue when using standard cross spacers. The tile leveling system can completely eliminate any possible mistakes made while tiling a room.
Tile spacers, due to their characteristic construction, can be used with tiles of different thickness. Thanks to this you do not have to give up elements of thin or thick structure.
Tile leveling – additional equipment
Tile spacers and wedges are the basic elements that will help you lay the tiles quickly. There are also other, additional elements that can be used with the tile leveling system. Pliers are the most important ones. They allow to tighten the wedges precisely without the risk of damaging the tiles. Another helpful element is a small rubber mallet. You can use it to easily remove the upper part of a spacer sticking above the tile.
What are the advantages of the Millto tile leveling system?
The biggest advantage that makes the tile leveling system distinct, is its universality. As stressed by experts, it's a perfect solution for every type of tiles: floor, wall and outdoors. Additionally, the tile can be ceramic, grès or even rectified. The tile leveling system allows you to correctly lay the elements that have various sizes and thicknesses. If you plan to finish several rooms, you can use the same product every time.
The tile leveling system definitely improves work efficiency. Thanks to it you can finish your house or apartment way faster. What's more, you don't need to hire a professional to lay the tiles. With tile levelers, anyone can do it – not worrying about any errors.
A big plus of the tile leveling system is the fact that there is no need to use any additional elements. You do not have to employ a level tool that sometimes is quite problematic to use.
How to use the tile leveling system – a step by step guide
Laying tiles with a product like the tile leveling system is a very easy task to perform. Nevertheless, one needs to follow a certain pattern. This way you can be sure that everything is going to go as intended.
First of all, prepare all the elements that you are going to need. Apart from glue and tiles, you should also remember about tile spacers and wedges that should be placed in an easily accessible spot.
Follow the instruction printed on the glue packaging and spread it on the surface and the tile. Lay the tiles one by one. After setting each tile in place, use the spacers. It's very easy – just slide the element into the layer of glue between the floor and tile. Then lay another tile on the other side.
At this stage you can control the tile level using a rubber mallet. Be careful not to hit the tiles too hard, which could cause damage. If the clips are already set in place, put the wedges in. This way you can avoid unevenness. Don't be anxious to pull the wedge if it's needed. The pressure is going to be cushioned, so the tiles are completely safe.
If the glue has dried (check how much time is needed on the packaging), it's time to remove the wedges. You can do it using either the aforementioned rubber mallet or your own leg. Remove all the protruding elements, in the direction opposite from the line of grout. As you had started the leveling process, you might have noticed that the tile clips are more fragile at the base that is placed under the tile (it's easy to bend). This feature makes it easier to remove the upper part of the spacer.
Tile leveling system – what to keep in mind when choosing the right one?
When you pick a tile leveling system, pay attention to its quality. Both spacers and wedges should be characterized by certain parameters. The carving of the wedges is a very important factor. It allows you to press the tile to the surface more comfortably but also more carefully.
You should also look at the price-quality value of the elements of the tile leveling system. It's common that the product contains pliers and doesn't cost much more. It's an additional element which will help you to tighten the wedges correctly – this option is definitely worth considering.