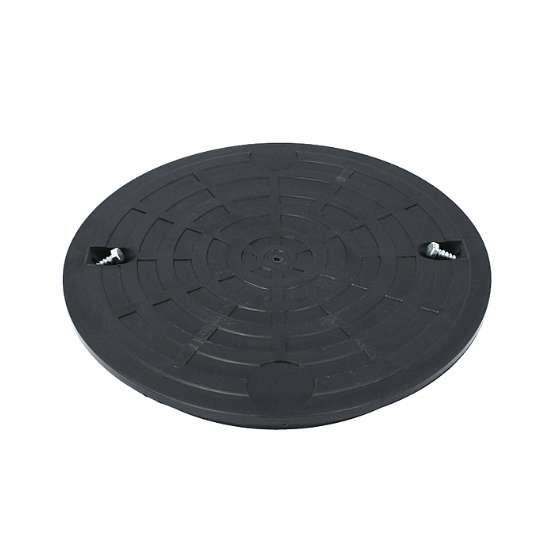 Manhole cover
Update date:
Maximum weight load: 1,5 t
Weight load class: A15
Pipe type: Corrugated
More information
A tight manhole cover - choose the high quality
A manhole cover is one of the basic elements of a sewage system. It helps to prevent the sewer gases from spreading. The cover also functions as a part of an access eye, securing the manhole outlet and stopping dirt from getting inside the system and preventing obstructions.
Simple installation and easy fitting
Thanks to the characteristic construction and the circular shape, the manhole cover is a highly functional element. It fits a round manhole opening perfectly. The upper part has been specially carved. Both sides of the element have little holes - so one can easily attach the manhole cover with screws. The bottom is characterized by a special construction. It differs depending on the particular model.
100% durability - regardless of the weather conditions
The manhole cover is a durable and safe product - it's proved by the warranty. The cover is resistant to weather conditions which might e.g. cause discoloration. It's important, especially when the element is exposed to water or UV lighting for a long time.
The characteristic construction and high quality materials used for production directly impact the weight load capacity. Compared to other products of this type, the manhole cover is the most durable.
Check what specialists choose - unproblematic use guaranteed
The manhole cover which is the ending of a sewage system, should be matched with other elements. Depending on your needs, you can choose a manhole cover for a plain or corrugated pipe. Every model is available in different sizes.
Each Millto manhole cover has the A15 weight load class. You can use the product in foot traffic and bikes areas. The cover can be also used in commons.
Regardless of the type you pick, each manhole cover should be placed directly on the pipe ending. Additionally, one can use rubber seals to increase the security of the sewage system.
Technical Specification
Screws included:

Yes

Maximum weight load:

1,5 t

Weight load class:

A15

Pipe type:

Corrugated

Material:

Polypropylene

Pipe size:

315 mm

External diameter:

from 360 mm

Internal diameter:

from 315 mm
Variants specification
Manhole cover (corrugated pipe) 315

External diameter: 360 mm
Internal diameter: 315 mm

Manhole cover (corrugated pipe) 340

External diameter: 450 mm
Internal diameter: 340 mm

Manhole cover (corrugated pipe) 425

External diameter: 470 mm
Internal diameter: 425 mm

Manhole cover (corrugated pipe) 400

External diameter: 450 mm
Internal diameter: 400 mm
Manhole covers - safe and secure
A manhole cover is a durable element which can withstand long-term utilization - it is not only resistant to weather conditions but also high pressure. Because various manholes are available to choose from, one can fit the right product precisely to the user's needs and the type of surface. They are classified by their size.
The manhole cover is an ending piece of an inspection chamber. It can be made of various materials - which affects the duration of the product. Cast iron manhole covers are quite popular elements, although they are used mostly in public spaces where they are exposed to high loads e.g. from road traffic. Because of the intense use in such spaces a manhole cover has to be not only a tight, but also highly durable. It's important for the safety of anyone who is around the area.
A manhole cover made of plastic material is typically used for less frequented areas, and it has many advantages. First of all, it weights two times less. It's also a more economical choice - compared to cast iron elements, they are far less expensive. At the same time, they comply with all safety norms, and they have all necessary certificates to use them,
Manholes and manhole covers are the basic elements which allow for control over the sewage system, its cleaning and - if needed - ventilation. For everyday use, a manhole cover keeps unpleasant smells inside the sewers.
Where can one use a manhole cover?
Manholes are among the most important elements in every sewage system. They connect the pipes of the system with the surface outside buildings. This particular spot uses another important element called a manhole cover, or a pipe lid. It's the ending of the system, which allows to get a flat surface.
Manhole cover shape - is it important?
Most of the manhole covers available on the market are circular. It is not a random shape - this choice is supported by science.
A round manhole cover is definitely easier to install on the opening. The circular shape eliminates the need to fit the sides. It will always fit, regardless of its position.
One of the biggest advantages of a circular manhole cover is the high resistance to compression. Pressure put to the lid affects the surface around it. It's definitely a better shape as it absorbs more weight load, which prevents the ground around the element from subsiding.
Circular shape of the manhole cover has less surface than in rectangular or triangular models. Seemingly, it does not matter for the user, as the differences are small. However, a smaller surface requires less material used for production, which directly affects the price of a manhole cover.
Safety is another important matter. A circular manhole cover is typically placed on a special ring on an access eye. It provides stabilization. Even if the element moves for some reason, it cannot fall inside. In such a case the cover blocks itself, thanks to which nothing can fall into the sewer system.
Manhole covers classes
Every manhole cover from Millto is produced in compliance with required norms - in this case it's PN-EN 124:2000. It's also connected with the products classification by certain parameters. There are six classes which indicate the load capacity of a manhole lid and what surface it can be used for. They are: A15, B125, C250, D400, E600 and F900.
A15 - manhole covers of this class can be used at places designated for pedestrians and bikes.
B125 - in addition to the two mentioned cases, manhole covers from this category can be used on parking lots and areas designated passenger cars.
C250 - it's a special group of products that can be installed by curbs. The distance from the traffic and pedestrian areas is strictly specified.
D400 - such manhole covers can be used on a roadway for car and foot traffic. They can be also installed on roadsides and parking lots - regardless of the type of vehicles that use them.
E600 - it's a category of manholes designated for places where the pressure from vehicles is high. They are typically used on airport runways and ramps.
F900 - the most durable mahole covers, used mostly at airports with the largest aircrafts generating the highest pressure on a runway.
Manhole cover types
There are many various models on the market, designated for different types of sewer pipes. Thanks to such a wide variety, one can fit the right product to the sewage system of a particular building. Before choosing a specific model, it is advised to learn its specification, to know certain technical parameters.